Wine tasting breaks in West Sussex
Tours and tastings at internationally acclaimed vineyards close to the Skoolie
Tours and tastings at internationally acclaimed vineyards​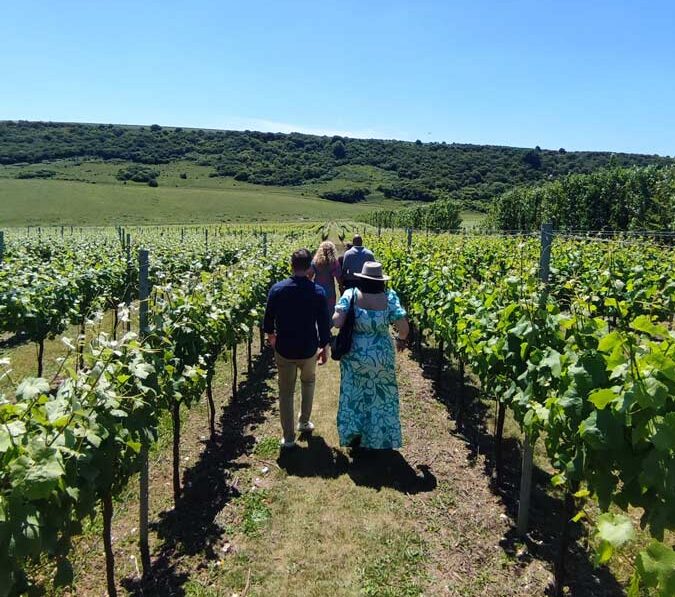 Exploring the Sussex Wine Region
You may well have heard of Nyetimber and Bolney Wine, after all, they have put Sussex on the international wine map, but there are also several other vineyards in the area worth talking about. 
Skoolie Stays has several incredible vineyards within 5-10 miles of the site at Little Thakeham Farm. The majority are open year-round for visitors interested in tours and tastings, and there are often dining experiences too. 
Fine wine, fine food and fine company sounds like the perfect way to spend a day, so why not make your Skoolie Stay a full on Wine Tasting Break!
The secret to Sussex's success
The secret behind their success of Sussex's wine is the terroir and climate. it is incredibly similar to the Champagne region and the vines thrive on the diverse mix of clay, sand and limestone. They also benefit from the relatively mild weather and low rainfall – the proximity to the sea means temperatures are kept even. No extremes. Grapes ripen slowly and absorb all those minerals to develop the most exceptional flavours.
Just as in Champagne, many vintners opt to produce grape varieties like Chardonnay, Pinot Noir, and Pinot Meunier as these make for fabulous sparkling wine. Some also create their own stills too and it's been such a successful story that Sussex now has several vineyards of international acclaim with wine that rivals that of the French.
Sussex Modern writes in more detail about each vineyard and even lets you know who needs help with the picking, but if it's just the sampling you are after, take a look at our list of favourite vineyards. Each one offers the opportunity to learn how the wine is created and aged, how to pair wines,  how to grow vines  – they offer a fascinating, informative (and delicious!) day out. 
Our favourite local vineyards​