Skoolie Stays in the Press
From the UK to the USA – what the papers have to say
Skoolie Stays has featured in local and national press, she's appeared on television and in a book…  
So what do the media make of Skoolie Stays?
Quirky Weddings Magazine: What's love without a little rebellion?
Quirky Weddings Magazine featured us on a 4-page spread in their magazine and online . It was part of a collaboration with Eastbourne based photographer @thornandfound and make up artist / concept planner @makeupbychelsey_. We had SO MUCH fun staging the rock 'n' roll photo shoot on the bus. It was the perfect setting and the team were fantastic. 


Wild Escapes: Incredible Places to Unwind and Explore (National Trust)
The National Trust contacted us a year about a possible stay for their author Sian Anna Lewis, who was documenting Wild Escapes in the UK. We were thrilled to be considered and hosted her in early 2022 at our site in Beachy Head.
Of course the eagle-eyed will spot that it talks about our site at Beachy Head. Sian's Wild Escape took place before we had the news that Black Robin Farm, our site, was to undergo works as part of the Council's Level Up Funding project. The South Downs National Park could no longer let us stay at our spot and so we moved to Little Thakeham Farm.
But although some of the suggestions about pubs and hikes may not be relevant, the bus is after all a bus – it has many stops. Little Thakeham is just as wild a destination (and it's a lot less windy!) so we think our guests will find it just the place to unwind and explore. 
Call of the Wild: Guardian / Observer
Sian Anne Lewis, an award-winning travel-writer and blogger visited the Skoolie Stays bus at our site in Beachy Head so that she could write about the best UK wild escapes for a National Trust book. 
In preparation for the book launch, 10 of the best of the 40 escapes mentioned in the book, appeared in the Guardian and Observer on 7th May 2023. There was the Skoolie, in at number 2. 
She declared the Skoolie as a "big yellow home-from-home" whilst the photographer, the fantastic Annapurna Mellor, told us privately that they had both "loved (their stay) and it's a really unique addition to the book.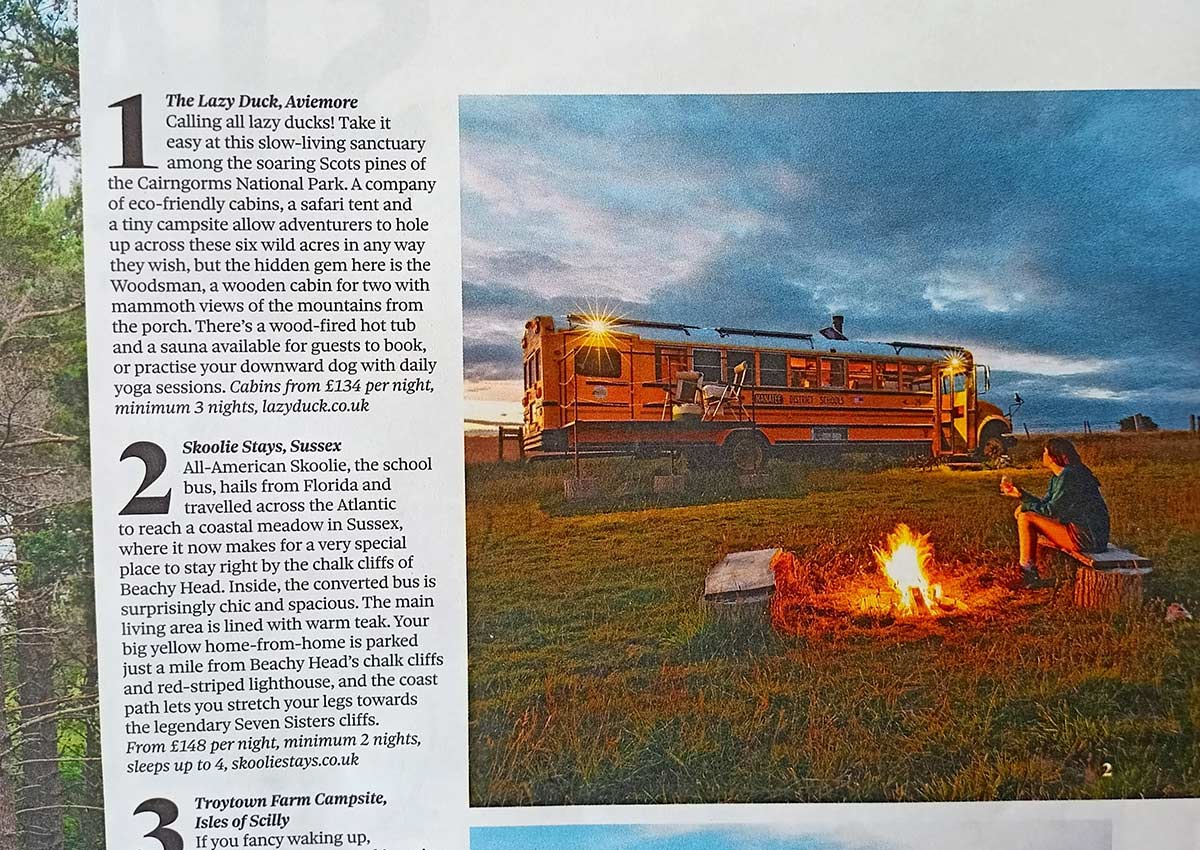 Across the Pond: Florida Patch, Manatee School District and ABC Action News
We got in touch with the school district that had originally been home for the Skoolie Stays bus. They were so excited to hear from us. 
We worked with Melissa, the Communications Specialist at Manatee District Schools, to provide our side of the Skoolie story and then her team created an incredible film showcasing the reactions to the story of bus #25's English retirement.  It was shown at their School District meeting, which went out to six thousand of their employees. You can read more about that on our blog
The story also led to coverage in The Patch, which goes out across Florida, and the ABC Action News.
10 Wild New Stays in Britain: Telegraph
We were interviewed by Laura Fowler for the Telegraph Travel Section. She wanted to talk to 'glamping entrepreneurs who gave up their day jobs to create original stays with the wow factor. 
Laura was really interested in our idea of sharing the off-grid lifestyle that we had enjoyed in America through Skoolie Stays. 
Fire pits and frosty walks': readers' top UK winter cabin and glamping stays: Guardian
This was a reader's tip that made it into the Guardian top tip pages!
Tiana Wilson's Converted School Bus Tiny House Tour (Off Grid)
Teen you-tube star Tiana Wilson decided to book a weekend in the bus to create some content for her numerous channels. She created a couple of different videos for her 5.29m subscribers – a "haunted bus" series and also a tour of the bus.  We had no idea Tiana was staying, so had quite the surprise when the bus popped up as her film set!
itravel: Autumn Glamping Adventures
We didn't even realise we had featured in this until a family friend sent us the itravel article!  Here we are though, second in the list of places to hunker down for a cosy UK break. 
The Argus: Couple's Skoolie Stays Glamping Business Comes to Eastbourne
The Argus interviewed us to find out more about our trip and how it inspired us to ship over the Skoolie Stays bus. 
Eastbourne Herald: A Look Inside the American School Bus
The Eastbourne Herald ran a series of features on us when we moved to Beachy Head. A yellow American school bus was not a common sight and locals were evidently curious as to exactly what was inside that bus!