How to buy an American school bus from the UK
Whether you want to travel the States in a Skoolie or convert one in the UK – we have done the lot and have all the info to share!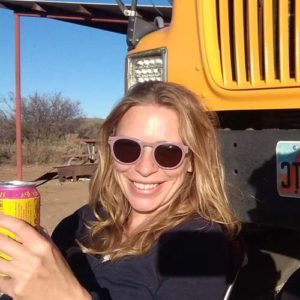 Buying anything remotely is a challenge but when it comes to buying a US school bus – a vehicle you know nothing about – in a country in which you are not based, it's an even bigger mission.
American school buses are comparatively cheap. Once they reach around 140,000 miles, they have to be retired. That means there are a surplus of decent buses waiting for private sale. 
A good solid bus with a decent service history was around $5k in 2018. That went up to approximately $6500 when we bought our second in 2020. Of course the pandemic had hit by then, which skewed prices, but converting school buses is becoming more popular and where there is demand, increased prices always follow. 
It's worth noting that you can get them far cheaper than this (or more expensive). We were quite specific about what type of bus we wanted (a dog-nose rather than a flatnose), size (full-size rather than a shorty) and what kind of engine and transmission (an International) and also the location of our purchase (east-coast buses = rusty bottoms!).  
Of course you should also remember that this price tag only buys you a bus. Shipping it over to the UK, if that is your plan, costs far, far more than the bus itself. And whichever country you decide to convert it, you only need the shell of the bus and it's engine. The cost of turning it a bus into a tiny home is where the money goes. Of course the snazzier you make it, the more it costs, but even a basic conversion requires a solid budget (with contingency!)

The big problem for a UK citizen is finding your trusty steed. Buses are listed everywhere – from private sellers on craigslist to dealers to auction houses. The problem is, how do you know if you are purchasing a solid, reliable, rust-free bus? In many cases, you won't know until you start your actual conversion, but you should do your best to check in advance. It seems a shame to waste all that money on a total rust bucket! 
Of course checking out buses in America is not easy. We had a friend in New York who was happy to help, but if we'd ended up purchasing from a dealer on the west coast, that would have been a good 5 – 6 hour flight for him to go and give it a once over. That's like flying from the UK to Egypt! The only way around this is to find a local mechanic and pay them to look at the bus. Finding one can be a challenge, and mechanics are pricey, but it might be the only way you know for sure what state the bus is in. 
What are you buying a bus for?
Are you buying a bus to travel the States or are you thinking of bringing one back to the UK. We've done both. In fact we even looked at buying one, bringing it to the UK to convert and then shipping it back to travel. That probably strikes you as foolhardy, but at one point it looked like the cheapest way to do it.  
Let's cover all options…
Bringing an American school bus to the UK
First things first. Make sure it is a regular, retired bus that you buy – not a part-converted / fully-converted Skoolie. It makes things far more straightforward when it comes to shipping and then titling in the UK. And don't be tempted to rip out the seats etc in the U.S – it needs to look like a bus when it arrives in the UK or you get into all sorts of MOT problems. 
Once you have bought your bus, you will need to get on and organise shipping asap. You can't do this in advance as you need the information on the Title Deeds of the bus for the shipping agent. The agent will require lots of information about weight, height, make etc and it has to be precise. Full-size buses are too big for containers, so you will need a RoRo ferry (roll on roll off). You pay for the space you take up and so you want to make sure you get those stats right. 
Although there were lots of forms to fill in, it was fairly straightforward. In 2020, it cost us approximately £4800 with duty (16% of the combined value and shipping costs) and VAT (20% of the combined vehicle value, shipping and duty costs) on top of that. 
Space to store a Skoolie and a TWIC to your name
The most complicated part of the process was what happened with the bus in the window between the purchase and its scheduled arrival time at the port for shipping. It takes a while to get your slot booked for the RoRo ferry and so you need someone / somewhere to collect your bus and store it for you. You will also need someone with Transportation Worker Identification Credential (TWIC)  to deliver your bus at an allotted, very specific, time. The TWIC is required by federal law for any workers that need access
to secure or restricted areas of maritime facilities and is administered by the U.S. Transportation Security Administration (TSA) and the U.S. Coast Guard.  
Luckily, our year out led to us meeting amazing friends, which meant we had bus buddies who could help us out. Our bus arrived in the UK in early February 2021 and you can read more about the process of building it, here. 
Where to buy a bus if you want to travel the States
But what if you want to travel in America with your Skoolie like us? Your options are a bit greater:
Purchase a second-hand conversion in the US that is already titled as a RV.
Buy a US school bus, convert it yourself and get it re-titled as a RV.
Buy a US school bus, get someone to part convert it and do the rest yourself.
Buy a US school bus and get someone else to convert it completely, then re-title it when you arrive.
Buy a US school bus and ship it to the UK to convert, title it as a motorhome with the DVLA, then ship it back to the US.
Building on somebody else's dream
The cheapest option is to buy an already converted Skoolie. These pop up all over the place – eBay, Craigslists, local listings sites – and they can be just a few thousand dollars. Of course the down side is that there is absolutely no way of knowing what state they are in if you can't look at them yourself. It could have mechanical issues or massive rust problems – there are millions of things that could be an issue.
The other problem is timing. If you buy something on an auction site, most people expect pick up within a week or so. That didn't work for us as it meant leaving all our travel plans to the last minute. Giving up our house, school and jobs felt risky enough. Turning up in America without a home and no idea of where we would find one, that was far more than we happy to sign up for. 
Do it in the U.S yourself
The DIY route is the most economical option – no-body will put as many hours in or work as cheaply for you as you will for yourself! We'd read several blogs by people who had spent as little as $10-12,000 for what looked like a gorgeous home and we were keen to get stuck in on a bigger project. 
You also have to remember that those blog prices are from people who have spent months, if not years doing up their buses. They would have had access to tools as well as the ability to purchase / pick up bits and bobs as they went along. They undoubtedly had pals with mechanical knowledge or an uncle who was a dab hand at cabinet making. Crucially, they had space to store a 40ft vehicle. 
If, like us, you have no contacts, no space, no tools and absolutely no clue how to convert a school bus, you are going to have to factor in a helping hand.
A helpful hand on helpful land
Luckily there is an option for people who do not have their own land or tools.  There are several places that lease space and tools for school bus conversions. Colorado Custom Coachworks, were the big name in 2018, charging 1050/mnth for space to work on a full size bus (2018 prices). That seemed do-able, until we spoke to them and realised how little we knew about conversions and how much help we would need to do the 'rough in' – the demolition, electrics, plumbing etc. Prices went from do-able to astronomical. 
We shopped around, mailing and calling Blue ridge conversions, Skoolie.com, Chrome Yellow Bus, Skoolie Homes and Paved to Pines (in Canada) to get costs. Everyone was really helpful but prices were comparable to Colorado – to buy a bus and get the 'rough in' done, we were looking at $40k plus. We'd also have to spend a decent chunk of time working on it, which was also going to massively eat into our year-long visa. 
All of the companies that offer part-builds, all do full builds as well. They regularly top $60k (2018 prices). Some are a little cheaper – offering standard 'flat-pack' type fits with optional upgrades. By the time you add on all of the options you want to make it unique, you are back up at the $60k mark.
I did warn you that the cost was in the conversion!
We were musing about how American labour costs seemed higher than the UK, and how it would be so much cheaper and easier to do it in the UK, when we realised that there was nothing stopping us exploring that option too. 
We spoke to specialists in the UK and yes, it was cheaper. The bus would be too big for a shipping container, so the only option was RoRo (roll on roll off) for approximately $5000 a journey, with a discount if we did three journeys. Tax would be on top of that. But what was the tax implication? That was when I entered into the dark world of tax and shipping.
After many long discussions with HMRC, it turned out we would be eligible for I.P tax relief on the shipment over if we were returning it within 6 months.  I couldn't speak to U.S Border and Customs about the second shipment back, they were not taking any calls, but their website suggested returning an American vehicle back to the U.S would also be tax free. Then, for the third shipment back to the UK, HMRC confirmed we might be eligible for Transfer of Residence because we would have owned the vehicle for over a year. Winner, winner, tax-free dinner!
Or not. USBC was taking emails and they quickly confirmed that there were significant hurdles to this plan. if a vehicle is owned by a UK citizen, it doesn't matter if you are sending it back to the country in which it was bought. Effectively it is now a UK vehicle and although it is US made, the bus would have to meet all applicable FMVSS and EPA emissions standards. You have to produce an EPA form, which is near impossible if you do not have insurance and you can't get that if your license does not allow you to drive a passenger bus.  You can't even get anyone else to drive it as only the IOR (Importer of Record) is allowed to do that.  It would have to arrive as a motorhome, which would mean retitling in the UK where it is notoriously tricky (we cover that in our UK build blogs).  
And, even if we could get a license for a passenger bus, to really twist the knife, the IOR is only permitted entry on a carnet. The carnet limits movement around North America (i.e it is not valid in Mexico) and restricts travel to 1 year.
Finding an American builder
The final option left to us was to take a gamble and find someone cheap to purchase and work on the bus for us. We eventually stumbled across someone who fit the bill – a carpenter in Salt Lake City who had worked on trailer conversions and was looking to break into the Skoolie market. We did our due diligence, even writing the legal contract, to make sure that we were protected. We also sent some friends round to check him out. 
Managing the build by Skype / Whatsapp with an inexperienced builder was stressful and although it worked out for us, I am not sure I'd recommend it. 
For those keen to follow in our footsteps, we'd be happy to talk to you about some safer options. After a year overseas living the Skoolie life, we now have some incredible contacts. Just get in touch.