Reduce, reuse and recycle
How we turned trash into treasure, taking a bus off the roads and turning it into a sustainable glamping destination.
The Skoolie Stays bus is regularly recognised as a unique place to stay, but the initial focus is usually on its iconic exterior. Dig a little deeper and you will find that there is more to take away from a weekend in the Skoolie Stays bus than a photograph of your other half in the driver's seat!
As an off-grid tiny home, we do our best to educate our guests about a lifestyle with the three R's at its core: reduce, re-use, recycle. When they leave, they take home an understanding that going green is not a compromise, it's a positive lifestyle choice.
A very different retirement
When you think about environmentally-friendly glamping units, you probably have in mind a wooden 'eco' pod or a simple yurt, but the battle to save the planet does not stop with the use of less impactful materials. We need to look at how we can re-use our waste, taking something no longer deemed useful and bringing it back to life. We need to work with the old instead of buying new.  
After approximately 10-12 years, the majority of American school buses are retired from service. This is partly because they do not meet the tight standards set by the EPA on emissions. Rather than scrap them, they are auctioned off or sold by dealers, which seems like great news until you realise that the vast majority reappear in Central or South America as public transport.  With less stringent rules on pollutants,  the diesel flows. the engines are pushed hard and the emissions statistics get higher and higher. Possibly 850,000 miles or more are squeezed out of these million mile engines if they head over that southern US border. 
It's a different story for our Skoolie. Instead of glitz in Guatemala, honking in Honduras, chaos in Costa Rica or pollution in Panama, we sit sedately in Sussex. We don't drive it on the roads, apart from the occasional garage trip, so there's no speeding from A to B. Quite the opposite – we encourage people to slow down their busy lives to a stop. Crucially, we don't damage the environment we exist in. Instead, we encourage people to enjoy the beautiful South Downs National Park, with its protected ecology and landscape, and educate them about off-grid living. We are also working hard to offset the emissions created by its journey to the UK, supporting rewilding projects and beach / cliff clean-ups. 
Addressing the impact of water, waste and power​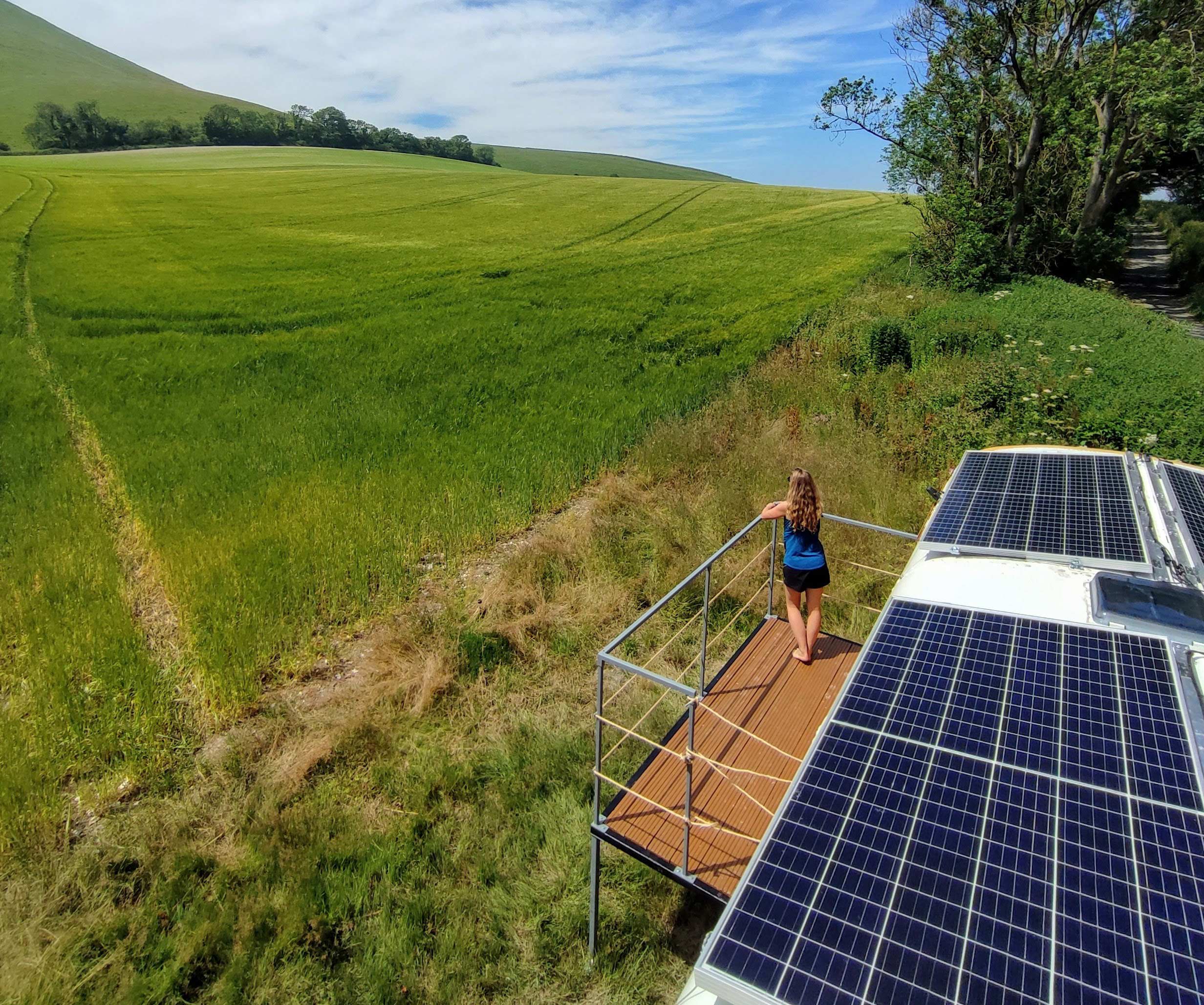 From the start of our build, we knew we wanted the Skoolie to be off grid. using renewable energy and minimising the amount of water required, not only helps the planet, it saves money and allows us the freedom to quietly exist in rural locations with no access to infrastructure. 
Solar power is an energy efficient option for off-grid homes, with little waste. We installed six panels, each on a hinge so they can be angled to make the most of the low winter sun. An onboard inverter manages the solar energy, ensuring the batteries stay full, so we have plenty of power for lights, the fridge  and several USB charge points on the bus for phones, laptops etc. 
To reduce our water intake, we focused on where most water is wasted: the bathroom. Along with a lo-flow eco shower, we invested in a top-of-the-range compost loo. Years of horrible festival long-drop toilets have given compost toilets a bad reputation for being smelly and dirty, but having lived with a modern one in America for a year,  we know that this is not the case anymore. Waterless toilets massively reduce water consumption and reduce waste and our Simploo toilet is sleek and stylish, with an inbuilt fan that ensures no bad smells.
Environmental inspiration
Looking toward nature to find design solutions
Wherever we could, we chose eco products to help extend the bus' life and keep her warm and cosy inside. This wasn't a compromise – many of the alternatives are better than their chemical and manmade rivals. Nature does, after all, know best.
Lanoguard, a sheep's wool derived rust protector, was sprayed on the underbelly to prevent rust and we used Cumbrian sheep's wool insulation to insulate the walls and ceiling. For a few days it did indeed smell like a farmyard!
FSC (Forest Stewardship Council) wood was used throughout, with pine cladding on the ceiling and sustainable ply planks on the walls. Hardwood pallets were planed back so they could be used as framing for the roof hatches and old American oak doors, donated from a period renovation, were dismantled and planed down to make a feature wall. We found a home for a water-damaged teak futon, which was taken apart and brought back to life as a sliding barn door for the bathroom.
At the end of the project, we even took the OSB board we had used as a cutting table and chopped it into shelves, held up by a chunky bit of driftwood we found on the beach.
Out with the old…. repurpose it as new
Not fit for purpose is different to not fit for use
We wanted to reuse as much as we could, both from the original bus but also repurpose items that others had deemed to be at the end of their life.
With plenty of bus seats at our disposal, it made sense to repurpose a couple and use them to create a dining area. Each seat was cut down to 2/3 its original size, then welded together to form that classic curve. We reupholstered them in vinyl to create our own American-diner. The look was finished off with a recycled school desk from Hove Park School from the Wood Recycling Store, held up by a hydraulic strut that started life as part of the disabled chair leg.
The rear-view mirror became part of a feature wall and an old filing cabinet and kitchen splashback were spruced up to add a metallic dimension to our entrance steps. The wood, mentioned above, and copper tones of the epoxy penny countertop, give it a warm and natural feel.
Scouring through other people's trash produced bus treasure which came with fascinating stories. Our perfectly-sized Scandi leather sofa belonged to a local man who would chill out and relax on it as the tunes played from his fabulous Wurlitzer. Our retro leather pouffe came from a lady who was thrilled to find out that her beloved footstool (which didn't fit her house) was going to move to a Skoolie. She was so inspired by our Skoolie that she went on to become one of our first bookings!
If you would like to book a stay on our Skoolie Stays bus to find out  more about our off-grid initiatives and eco-credentials, get in touch!