Camping in a Skoolie in America
How easy is it to get around in a 37ft school bus and where do you sleep? We have all the answers!
This is where it began – the change of scene that we all need now and again.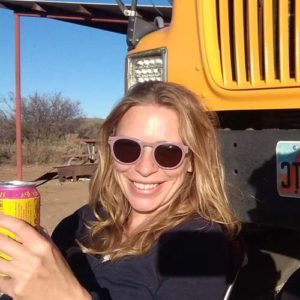 The beautiful part about living in a Skoolie is that your home comes with you, whatever the destination. We left Utah, snaking our way up past Bear Lake and into Idaho, before crossing the border into Wyoming for our first National Parks: Yellowstone and the lesser-known, Grand Teton. Throughout this first month of our travels, we learnt about the wide range of options for those living in a home on wheels and what worked for us and our bus. 
We may have been sleeping in campgrounds but we were sleeping in relative luxury. Living in a Skoolie is not like traditional camping – we didn't have to store our food in a coolbox full of melted ice or sleep on slowly deflating airbeds for a start! Our bus-home had everything we might need for a comfortable life: a hot shower, toilet, fridge freezer, cooker, comfortable beds. Of course all that takes up space. We measured in at 37ft plus few extra feet for our bike rack. So how easy was it to get around?
Americans truly love the road. In the UK, if a drive is longer than a couple of hours we start to wonder whether it is worth the effort. Three or four hours and we have to wait for a bank holiday weekend – we need to 'recover from the journey'. It is completely different in America – there is nothing they like more than a road-trip.  In Yellowstone, we met campers who had travelled 10 hours in their truck, with two kids under 10, to camp for the weekend.  
They may like the road but they also like their space and comfort. As we drove through Utah, Idaho and Wyoming we passed numerous 40ft motorhomes, often towing a car or a boat, as well as a plethora of gigantic trailers (caravans) attached to huge, 6-seater pick-ups. Many of them had slide-outs too (weird little boxes that emerge from the side of their RV like some kind of growth) to make the living space bigger. Our 37ft skoolie looked small in comparison and size was never an issue as we navigated our way north.
Campsite camping in a Skoolie
We budgeted our trip based on staying at proper campsites with all the amenities but campsites in America really varied in cost and facilities. You could be looking at anything from $7 to $100+ a night depending on where you are and what type of campsite you choose.
As a rule, campsites run by the state, national parks, US Forest Service and BLM (Bureau of Land Management) are much cheaper and in more rural locations but often come with more basic facilities – They may not have power or they might not have a shower block.  they invariably have terrible mobile phone coverage. The privately owned campsites are more like holiday homes and have big sites with plug in electricity and water, waste dumps, play areas, laundry, little shops etc – but they often felt a bit big and impersonal. Lots of people live in RVs in America and it felt like many were just holed up in their front rooms watching cable television. 
Because we could live off-grid and wanted to explore the outdoors, we quickly realised that we preferred more basic camping, but that's not a choice for everyone. If you do prefer to have all your amenities close at hand, you can show allegiance to a particular chain and sign up to get a discount. The Thousand Trails Pass, for instance, breaks America up into different zones and you can pay for individual or multiple zones. Coast to Coast do something similar as I'm sure do others. If $800 sounds like more than you can afford, you can just join a membership scheme like KOA (campsites of America) or The Good Sam Club– you sign up for their card and get a small discount off each stay. 
Basic camping in a Skoolie
State camping options vary according to each State. In Montana, as well as other more remote places on the west coast and in the desert, we had no facilities other than a long drop toilet, but they rarely cost us more than $10- $15 a night. On the west coast in Oregon, Washington and California, the state sites were on the beach and had lovely shower blocks etc. They were often closer to $50 a night.
The state camping sites are lovely and you are more likely to find people properly camping in tents or little trailers, enjoying the great outdoors. People were incredibly friendly and accommodating – they were all thoroughly interested in our journey and the experience. They loved the Skoolie and usually went bananas when we told them we were English!
Free Skoolie camping: Dispersed sites
If you don't want to spend any money on accommodation at all, that is possible in America. If you don't mind driving a little further down the track into the National Forests or to reach BLM land, there are free places to camp – 'dispersed sites' (not 'depressed' as one person with some helpful advice for us remembered them!). These are rarely more than just a space to camp (although sometimes you get a long-drop), so you need to be self-sufficient, but if all you want is a parking spot and nature, you are on to a winner. They are not even that far from the action; we visited Grand Teton NP and Yellowstone in high summer and stayed in neighbouring forest land for free most nights. It took us just 20 minutes to bump our way back down the track and get back into the park.
You can find all the cheap / free campsites by searching on Campendium or Wikicamps. We loved the dispersed sites, not just because of the price tag (or lack of), but because they were always a surprise. You read the briefest of details about them and then throw the dice – most of them involve a tense journey up an unpaved road. Will the bus do it? Would we be able to turn around? Were we going to fall off the edge of a cliff?! Then you round the corner and discover the most incredible view, the money shot. It adds a whole new dimension to the experience; we had a view over Grand Teton at sunset from our roofdeck (a celebratory beer) that was better than any paid-for boat-trip or mass-attended boardwalk hike. It was awe-inspiring.
Free Skoolie camping: Boondocking
There are other ways to keep it cheap and meet nice people. Americans are much more open to the idea of people camping than the Brits are. There are various truck stops and Walmarts that let you sleep in their parking lot, as well as official schemes that help to hook you up with people willing to offer you space on their land. We had several great experiences using Boondockers Welcome, staying with a lady in Montana who showed us how to bake bread, a Texan who let us pick fresh fruit and veg from his veg patch and gave us some of the deer shot last year (well, we were in America!) and many more. 
We also signed up to Harvest Hosts. This was a bit more expensive – about $70 – but it gave us details of wineries, breweries etc that were happy to put up RVs. It's proper to buy a bottle or do the tour, but you benefit from that anyway. For a family with kids, this was often the best way for us to sample the local wares – parking in a city to go to a restaurant was not an option, our bus was to big and our budget too small. It turned into a real highlight of our trip. America does have foodies after all!
We also used Hipcamp, which often meant paying a little to stay on someone's land, but that was a good option too. We found ourselves volunteering on a goat farm in Florida and a pig farm in Georgia that gave us and the kids the kind of opportunity you just wouldn't find at the regular campsites.